REPAIR, TROUBLESHOOT, MAINTENANCE AND INSTALLATION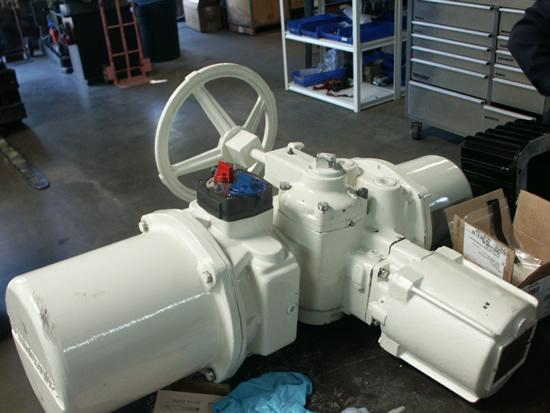 One of the critical components in today's modern pipeline systems are the valves and actuators that allow the natural gas or refined products/crude systems to operate safely and effectively.
A valve actuator is the mechanism for opening and closing a valve. Manually operated valves require someone in attendance to adjust them using a direct or geared mechanism attached to the valve stem. Power-operated actuators, using gas pressure, hydraulic pressure or electricity, allow a valve to be adjusted remotely, or allow rapid operation of large valves. Power-operated valve actuators may be the final elements of an automatic control loop which automatically regulates some flow, level or other process. Actuators may be only to open and close the valve, or may allow intermediate positioning; some valve actuators include switches or other ways to remotely indicate the position of the valve.
EEI has extensive experience in valve and actuator sales, service, installation, startup, repairs and testing. We have fully qualified personnel for in-shop, in-field service, adaption engineering and manufacturing, with a full service machine shop and testing capabilities. All our personnel are factory trained and received early updates for new equipment and literature explain adjustments and start-ups. All equipment purchased will be tested at EEI facility before placing it in the field.
EEI has a service truck for in-field repairs and service. Our expert technicians are capably trained and experienced to effectively troubleshoot and isolate the problem. They worked closely with the equipment manufactures and use only factory approved parts and equipment.
When a request to repair an actuator is received, the actuator is inspected at the job site first to determine what repairs can be done on-site. A test run is performed to determine which parts of the actuator require to be repaired.
If the repair is deemed to be difficult to be done on-site, the actuator is taken to EEI's service machine shop to be disassembled for full inspection. All parts of the actuator are inspected, replace all parts that are worn and need replacing. When the actuator is reassembled a bench test is performed before it leaves the facility and returned to the job site. Bench test includes electrical test for the torch switch operation, among other parts of the actuator to ensure all parts are working correctly. They are also earthquake-tested to ensure safety.
Personnel are trained at actuator and valve factories and have full understanding of the machinery. We also have testing capabilities which include electrical, and mechanically if they are on the valve itself.